‼️ 2 0 2 1 Y E A R B O O K ‼️ Yearbooks are FINALLY here! $35 See Ms. Terry for your 2021 yearbook. Get them before they are gone!🐾💚🐾

Santa and the Grinch will be at the Elf Shelf Holiday store tomorrow after school until 5:30 and student council will take pictures for free. 🐾💚🎅🏻🎄🐾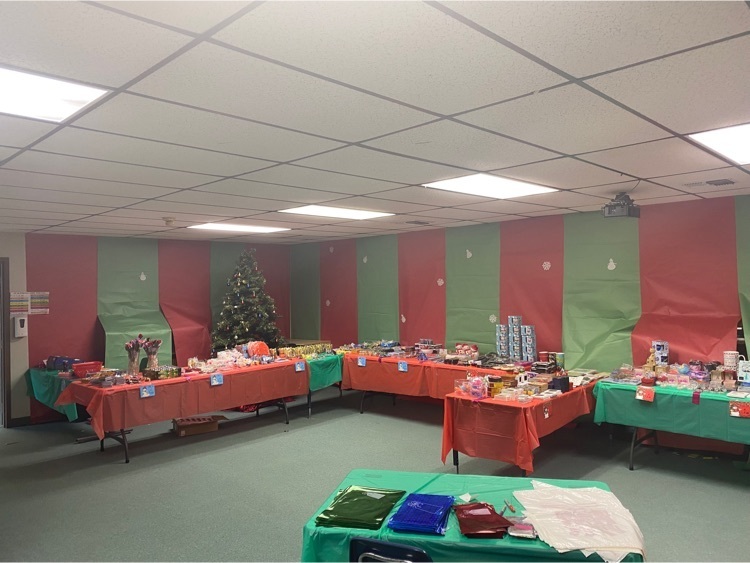 Varnum vs Oktaha at Whippet Gym at 630. If you can't make it go to varnumwhippets.tv 💚🏀💚🐾

Our Ladies and Men vs Roff tonight at 6:30 PM at Whippet Gym! If you can't make it catch the games at varnumwhippets.tv

Whippet Ladies and Men's Basketball vs Mason tonight Nov 9th @ 6:30 PM at Whippet Gym. We have our technical difficulties fixed with Whippet TV if you are unable to attend.
https://varnumwhippets.tv/
Come on out and support our Whippets! 🐾🏀💚🐾

We will dismiss school Friday November 5th at 12:30 PM so that staff and students may attend Dion Wildcat's funeral. Buses will run at 12:30. There will be no After School Program either. Sorry for any inconvenience this may cause and for the late notice. 🐾💚🐾

As many of you know, the Wildcat kids lost their dad/grandad suddenly on Tuesday, November 2nd. Our Whippet Family grieves with them as they go through this time. There are several ways we can help them. First, if you are a believer in prayer, please pray for healing, comfort, and peace for this family. Second, we can assist them with funds to use for funeral costs, clothing, and to assist Minnie (mom) with any other needs she and the kids may have. If you would like to donate cash or check, please bring it to the school or mail checks to Varnum Public Schools, 11929 NS 3550, Seminole, OK 74868. Either office will accept your donation. If at all possible, we would like to be able to present a check to Minnie this Friday, November 5th. I am always surprised and humbled at the caring and giving nature of our Whippet Family. Thank you in advance for any assistance you can give to our Wildcat kids. David Brewer Superintendent

VARNUM PS: Beginning November 1st and continuing for several months, NS 119 Rd (Varnum Rd) from EW 3550 to HWY 377 will be closed at various times for construction. If coming from the south use Good Hope Rd to NS 3550. Thank you for your patience. When construction is complete, this section of road will be brand new.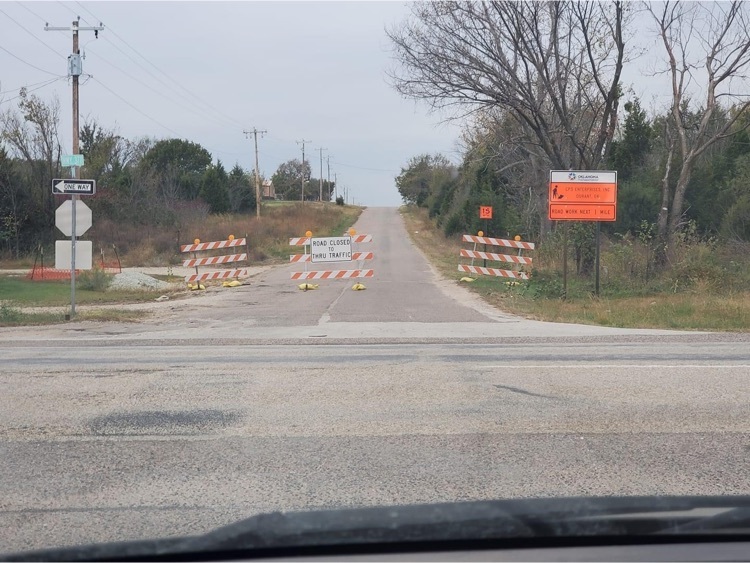 Blood drive tomorrow in the new gym: 9 AM - 1 PM. 🐾💚❤️🐾
Fall Family Literacy night Tuesday, October 26th from 5:30-7 PM for grades P3-8th. NO AFTER SCHOOL PROGRAM BUS ROUTES will run on Tuesday. Please either make arrangements to join us and your child/ren at 5:30 or pick them up. Book character pumpkins need to be brought to cafeteria at 5:30. We look forward to seeing you there.
If you have not returned your Impact Aid form, please do so ASAP! If you need another form, please contact the school.

If you have not turned in your Impact Aid Survey Form yet, please do so by Monday, October 25th. This is a very important form for determining funding for our school. Thank you so much. Have a great and safe weekend! 🐾 💚 🐾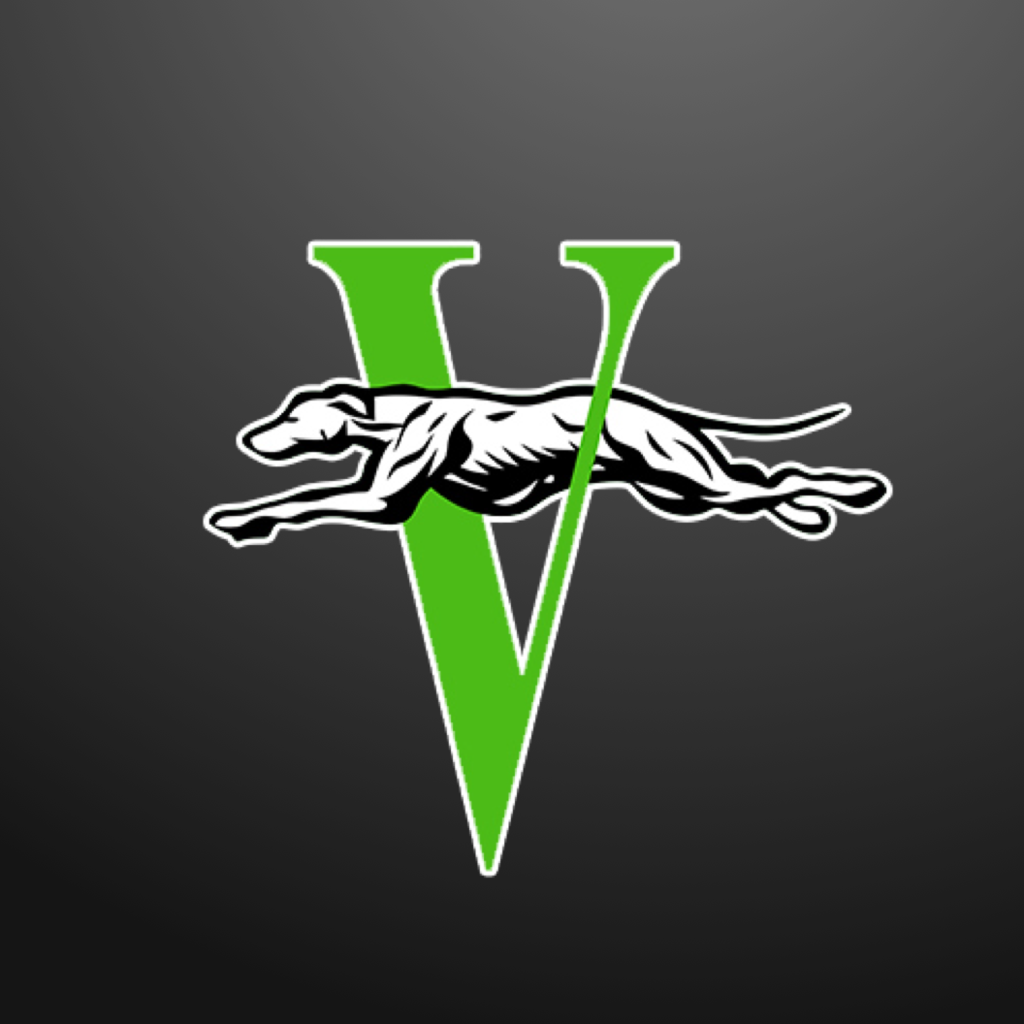 !!! SPRING 2021 OKLAHOMA STATE TESTING REPORTS FOR GRADES 3RD-8TH & 11TH CCRA
https://okparentportal.emetric.net/login
To log in to the portal, families must have their student's unique 10-digit State Testing Number (STN), which is available in WENGAGE GUARDIAN PORTAL (after clicking on a child's name you will see STATE ID #) or on previous OSTP paper parent reports. If you need assistance locating your child's STN, please call the school. All Parent/Student Portal accounts have been reset for spring 2021, which means families will need to register even if they've logged on before. The portal is accessible in English or Spanish. The following portal resources are available: • Parent/Student Portal User Guide • Parent/Student Portal Resource Guide • Accessing Spanish Reports For more complete information, go to
www.varnum.k12.ok.us

Get registered. Get your annual T-shirt whether you run or not. It's a Varnum tradition!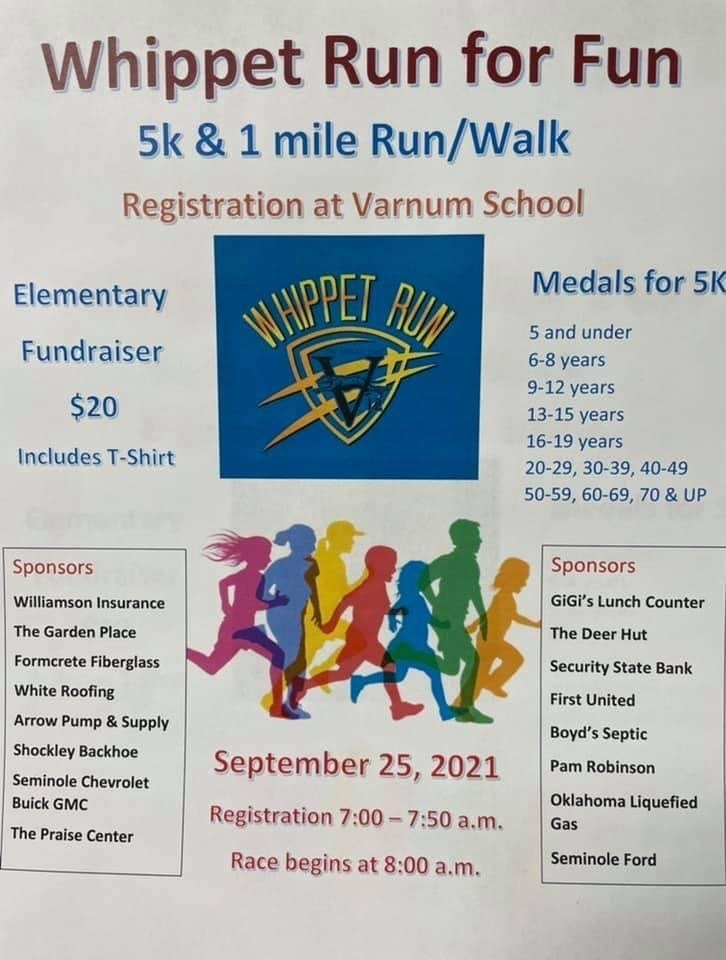 Please join us for Childhood Cancer Awareness Month by wearing Gold every Wednesday of this month in honor of our Little Whippet Logan Robertson. 🐾💚💛🐾

The Book Fair will be next week in the Library. Mon and Tues open until 6:20 PM. Wed and Thursday open until 3:30 PM. 🐾💚🐾

There will be no After School Program Monday or Tuesday due to P/T Conferences. Before school will be available. 🐾💚🐾

Parent/Teacher Conferences are Monday September 13th and Tues September 14th from 3:30-6:30 PM. We are not in school Friday September 17th. 🐾💚🐾

Our "Empowering Whippets" Before/After School Program kicks off September 7th for PreK through 8th grade students. In order for your child to attend they must fill out an enrollment form. You may download one from our website:
www.varnum.k12.ok.us
or call the elementary office and we will send one home with your child. We cannot wait to get started with all the fun, educational opportunities so get our kids enrolled!